News
8/20/23 - Since it's not an AMPTP production, I CAN tell you about that Publix commercial I did, which came out today and is so, so lovely. Grateful to all involved!
7/14/23 - We're on strike, y'all! Standing beside my WGA and SAG siblings to demand we receive fair pay and protections from the super-scary implications of AI. Gonna be quiet around here for a while...stay tuned.
6/20/23 - Excited that I just shot a commercial here in Atlanta, my first since leaving LA 5 years ago. Such a great cast and crew, it was so great to get back to my former bread & butter. I'll let you know when it comes out!
5/20/23 - I'm so honored to be a special guest at Ghouls Night Out in Los Angeles today, a celebration of all things goth, spooky, and My Chemical Romance. I never would've guessed when I was on the cover of "Life on the Murder Scene" in 2006 that people would want to meet me 17 years later because of it!
5/10/23 - I'm on Chicago Fire tonight! I had a blast with the amazing cast, crew and director, Lisa Demaine. Willing to move to Chicago, upon request.
4/1/23 - No fooling, Division was called a "masterpiece" by Film Threat. We're so floored and grateful. Have you watched yet?
3/30/23 - Off to Chicago for a cool job! Can I tell you about it? I won't, just in case.
3/21/23 - The Division team had a great time at the Socially Relevant Festival in NYC. The audience response was overwhelming (in a good way.)
3/7/23 - Today is the day Division is released into the wild. Check the website for all the places you can rent/buy it, and let me know what you think!
2/16/23 - We've announced the 3/7 release of Division! You can own a copy by pre-ordering here, and check out themoviedivision.com for a full list of outlets that will be carrying it for rental. I'm so excited to share it with you!
2/5/23 - We're honored as heck to be bringing Division to the Socially Relevant Festival in NYC on 3/18 at 9:30pm. Not in NY? We'll be announcing where you can see Division at home soon!
1/27/23 - A new article about dealing with jealousy at New Thinking.
1/19/23 - I'll be appearing on the 2nd episode of the sexy new series Wolf Pack on Paramount+, dropping on 2/2/23. That's a lot of twos!
9/27/23 - Well holy moly, Division won 4 awards at the Lady Filmmakers Festival in Beverly Hills. We took home Best Ladies First Feature, the Blockbuster Award, Best Supporting Actor for David Lee Garver and Best Actress for lil ol me! Joshua Drew Payne and Corrye Harden were also nominated for Best Actor and Best Supporting Actress, respectively. We are so honored and grateful!
9/2/23 - The Lady Filmmakers Festival screening of Division is on Saturday 9/24 @ 7:15pm (prime time!) You can get your tickets here.
8/30/23 - I returned to my wonderful friends Julie Slater and Jason Friday's Cuz I Have To podcast, and talk about how that very podcast changed my life! Listen here! You can also hear the show's theme song and Julie's voice in Division. They are pretty much the best.
8/26/23 - Today's the day, you can catch me delivering the news in Sylvester Stallone's Samaritan over on Amazon.
8/22/23 - I wrote another article for New Thinking; maybe it will inspire you? No pressure. I also wrote this one about overcoming depression (finally!). I'm so happy and honored to be getting the chance to share my experiences.
8/8/22 - My movie Division is making some major moves! We'll be at the Lady Filmmakers Festival in Beverly Hills next month, and will be distributed by Random Media next year. It's no small miracle we've gotten this far, I'm so excited to share it with you.
7/15/22 - I got another wee part on a fun new show. Can't wait to tell you more about all these things!
6/20/22 - I've been trying my hand at standup. It's pretty fun (and about time.) Just open mics right now, but who knows what's to come?
5/26/22 - I'm shooting another fun little role on a teevee show tomorrow, but I'm not allowed to tell you more, so why am I typing this? Just to brag, I guess.
5/15/22 - Honored to be moderating a panel on the Atlanta film tax incentive on Weds 5/18 @ noon EST for GPP and the DeKalb Entertainment Commission - a new frontier for me, wish me a bit of luck, will ya?
4/30/22 - I'm so excited to be partnering with the amazing artist Rebecca Ann to create a graphic novel out of my play Cookie & the Monster. Can't wait to show you stuff!
4/1/22 - Did ya catch me as a nurse on Legacies last night? Of course you didn't, because I wasn't allowed to tell you. No foolin'!
3/29/22 - I'm so proud to present for your rapturous approval (or riotous anger) the trailer for Division, cut by my husband, cuz he's amazing and I'm lucky.
3/1/22 - Division is done! We're so proud of it...now it's off to festivals, so I hope to see you soon in a city near you!
2/8/22 - Oh my gosh, Division is almost done! We're so excited to unleash it on the world.
1/20/22 - Yaaaay, my first booking of 2022! It's a fun little part, I'll tell you about it when I'm allowed to.
12/9/21 - I'm excited to be hosting the WIFTA Annual Gala tonight. It's so cool to be a part of honoring awesome women in the industry here in Atlanta!
11/29/21 - I was a guest on The Shadows podcast, hosted by Tripp Bodenheimer, who was a fan of World's Dumbest. His show focuses on overcoming your dark side, which is pretty much my favorite topic. Find it out wherever you get your podcasts if you want to hear me overshare.
11/10/21 - Whelp, we have picture lock on Division, and I gotta say, I think it's pretty spectacular. I can't wait for y'all to see it.
9/2/21 - Isn't that nice? I was profiled by ShoutoutATL, so check it out if you're interested in getting to know me a little better.
7/28/21 - Woof! After a 10 hour session of notes on the rough with director Jason Winn and actor/producer David Garver, we are more excited than ever about the movie we are going to share with the world. What a great team we are. No stress, all passion and love!
7/07/21 - Holy moly, the rough cut of Division is really strong already. Bless our editor Andrew Bentler for the amazing job he is doing!
6/01/21 - Behold, my new headshots by Daniel Parvi! My lovely agents at StewartATL love them and I do too. Can't wait to put em to work!
5/17/21 - That's a wrap on Division! What an incredible experience, and we're all so excited for the road ahead. Follow us on Facebook and IG to keep up with our progress!
5/7/21 - As we go into the penultimate week of shooting Division, I am awed by what we have accomplished. Everyone involved seems to think we are making something really special, and we are having a blast! Hopefully you will be able to see it at festivals worldwide next year, and in your living room soon thereafter.
4/15/21 - Wowie wow wow, tomorrow we start production on the film I wrote, and am starring in, Division. I'm so proud of it, and grateful to the talented group of people helping me make it. You can follow us on Facebook, IG or themoviedivision.com.
3/10/21 - Today I am thrilled to launch themoviedivision.com, currently in pre-production! I'm so proud of this movie that I wrote and am starring in, and think it's going to be spectacular. Please check out the site and spread the word!
2/01/21 - It's official, I've got a production company! Check out jaimation.com and see what we've got cooking.
1/17/21 - Oh man, lots of really great close-but-no-cigars lately...6 avails! I look forward to telling you about something cool soon.

11/10/20 - I just wrapped a fun little role on a big ol' movie. I can't tell you more about it than that, but it was great to be back on set again. Here's to more of that!

11/1/20 - Hey! I wrote a movie! I'm really excited about it, and so are my friends who want to help me make it as soon as January. I can't wait to tell you more.

9/25/20 - Whelp, I lied... Greenland isn't opening tonight (thanks covid!) but it is now hitting OnDemand on 12/18. Enjoy my big screen debut... on your small screen!

9/9/20 - Greenland, with Gerard Butler, Morena Baccarin and me (to a lesser extent) is opening in theaters on 9/25 - we're going to see it at the drive-in! You can see the trailer here and I'll give you a cash prize if you can tell me the 2 seconds in which you see half of my face.

7/8/20 - "My" episode of The Oval airs tonight on BET! Check out that hot morgue worker, ha.

3/15/20 - Whelp, I was supposed to start shooting on another major motion picture today, but you might have noticed that THE WORLD'S GONE CRAZY! I hope you and your family are well. Stay safe.

01/08/20 - I'm thrilled to announce we'll be performing the Los Angeles cult hit Magnum Opus Theatre @ Village Theatre this February on Saturday nights @ 7:30pm. It's real, terrible screenplays performed exactly as written and it's my favorite thing to do. Come see!

8/5/19 - It was amazing to be directed by an icon, Tyler Perry... see me in a bit part on his upcoming BET series, The Oval.

7/15/19 - I'm so excited that my first job in Atlanta is a really cool one! I get to play with Gerard Butler and Morena Baccarin in the upcoming feature, Greenland!

9/1/18 - A big change has been made! My fella and I have moved to Atlanta to try our hands at the burgeoning entertainment scene and to flip a mid-century house! Here's hoping both ventures are a success. It's scary... but scary is good, right?

8/1/17 - I did an Applebee's commercial at the end of last year and it appears to be running again. I'm just in it for a few seconds, but I'll take it!

6/20/17 - Miss Meredith Maxwell made it to the Serial Killers' Finals, but was bested in the end. Still a great time! Hope you all have a delicious summer!

6/5/17 - I'm a part of the Serial Killers Playoffs at Sacred Fools in this year's Hollywood Fringe...I get to play Winona Ryder's character in Dr. Stranger Things and the Bette Davis-like villain Buzz Brighton in Miss Meredith Maxwell. Super fun!

4/10/17 - The Sirens of Titan is getting great reviews and you should totally come see it @ Sacred Fools.

3/15/17 - I did a fun Progressive spot (No, not with Flo...) coming to yer tube soon!

2/10/17 - I'm thrilled that I will be playing the role of Beatrice in the upcoming Sacred Fools production of The Sirens of Titan. Adapted by Stuart Gordon from the book by Kurt Vonnegut, this one hits me in all my heart places, and I hope you'll come see. We open at the end of March.

1/11/17 - Whelp, GGR is officially over. It was an honor to be a part of it, and I thank you all for watching. (sad trombone)

1/5/17 - Happy New Year, all! I'm excited to start the year with a new class, The Core with Risa Bramon Garcia. I've heard great things!

12/3/16 - Just got the news that Good Girls Revolt was canceled, sadly, but Sony is planning to shop it to other studios, so wish us luck and I'll keep you informed!

9/10/16 - Another Good Girl, Hannah Barefoot, and I are guests on Katie Ward's The Enthusiasm Enthusiast podcast, talking about the show following her interview with Lynn Povich, writer of the source material and original good girl!

8/30/16 - It's been a while since I've been in class, so I just took one with Annie Grindlay - she was great! I highly recommend her.

8/5/16 - What an amazing couple of months! Shooting on Good Girls has wrapped and I think it's going to be really special...it comes online Oct 28th. Hope you watch and dig it!

7/7/16 - Despite shooting, I still managed to do *most* of the performances of Will McMichael's Night Witches in the Hollywood Fringe...and it won Best Ensemble Theatre of the festival! (Yep, the same award that my play Cookie & the Monster won last year...streak!)

5/25/16 - Hey, big news! I'll be playing Dottie on the new Amazon show Good Girls Revolt...such a thrill to tell this awesome true story with an incredibly cool and talented group of ladies.

5/15/16 - I've been in this great Serial Killers piece by the hiLARious Bill Robens, opposite my fella Curt Bonnem and directed by the phenomenal Pat Towne. It's called Lord Wolfbane's Mistress (I am she) and it just won the annual playoffs! A super-fun honor!

4/14/16 - I've been cast as Yev in my friend Will McMichael's powerful new play Night Witches, premiering this summer in the Hollywood Fringe. Yay!

1/5/16 - Happy New Year! Come celebrate with us at Sacred Fools where I've gone back to doing Serial Killers...a great late-night sketch show that I've been in since it started (gulp) 11 years ago. It's a blast!

7/1/15 - In a magical turn of events, my play Cookie & the Monster won Best Ensemble Theatre Award at the Hollywood Fringe...I'm so honored and grateful to my amazing cast & crew. Click the link to learn more about it!

5/10/15 - The play I wrote, Cookie & the Monster, is running next month at the Hollywood Fringe Festival. I have an amazing cast of friends by my side and am so excited/terrified! If you're in LA, please come check it out.

5/5/15 - I did a commercial for Bird's Eye...coming soon to a tube near you!

12/9/14 - I'm shooting a commercial for Totino's - and it's another one you'll be able to make fun of me for. You're welcome!

11/5/14 - Just did a Kellogg's commercial, and I think it's going to be really neat! I may look silly, though. Luckily, I dig that sort of thing.

10/20/14 - My Whirlpool ad started airing..right in time for my birthday, aaaaaaw.

10/1/14 - Absolutely Filthy is back in NYC this week only as part of the Fringe Encore Series. Come see it while you can, this may be your last chance!
9/1/14 - Oh my goooosh, you guys, Absolutely Filthy WON the NY International Fringe Festival. Won it! Astounding! Thanks to everyone who came out to support.
8/4/14 - I'm leaving tomorrow to perform in Absolutely Filthy at the New York Fringe Festival, from August 8th - 22nd. Tickets are available on the website...come see the show that's just too good to go away!
8/2/14 - I'm still doing Serial Killers @ Sacred Fools, and tonight the piece I was in, Managing to Survive by Ed Goodman, won the playoffs! The show returns for it's 10th season (whoa) on September 13th. Come have fun!
7/15/14 - I'm going to Portland to shoot a Chevy Silverado commercial! I have a 16 year old daughter in the spot... scary.
6/15/14 - Just shot a national Whirlpool commercial with the amazing director Martin DeThurah. Coming soon to your teevees.
6/1/14 - Absolutely Filthy was selected to play at the venerable South Coast Repertory theater, where it will play from June 5 - June 8th.
5/10/14 - Well, it looks like TruTV's World's Dumbest has come to an end, but don't worry, they'll probably air reruns of it UNTIL THE END OF TIME!
4/7/14 - Absolutely Filthy, the show I'm in that won the Hollywood Fringe Festival last year, also won THREE LA Weekly Awards tonight, including Best Ensemble. Hoorah!
2/15/14 - Keep an ear out today for me co-hosting Julie Slater's KCSN show Out on a Limb from 5pm - 7pm in LA, or listen online!
1/3/14 - Happy New Year! Wishing you all the best whist I share this CNN interview with lil' ol' me.
12/31/13 - Time to do the annual New Year's Eve Fast & Loose show at Sacred Fools. It's so stressful, but the payoff is worth it!
12/13/13 - Ho ho ho! Happy Holidays!
10/15/13 - We just did a holiday version of the infamous Ship Your Pants commercial, so that's something to look forward to in your stocking! I also did a local Michigan healthcare spot, so if you live there, keep an eye out for it.
8/1/13 - Because we won Best Comedy and Top of Fringe, Absolutely Filthy @ the Hollywood Fringe is getting a remount from August 15th-18th at Theatre Asylum.
7/15/13 - Check out Disney XD tonight for Crash & Bernstein, on which I play Kryzniavzzk...um, just call her Cassie.
7/1/13 - It's official! I am now represented theatrically and commercially by KSR Talent, Yaaaaay!
6/10/13 - This month check out the re-mounting of Absolutely Filthy @ the Hollywood Fringe Festival and my sketch "Cookie & the Monster" in the Serial Killers Playoffs @ Sacred Fools.
6/3/13 - The Toyota Rav4 commercial I did with the Genie, Kaley Cuoco, dropped today. No pun intended.
5/20/13 - We have so much fun when we ship our pants at Kmart that we had to find another way to amuse you...Tada!
4/15/13 - I wasn't kidding about that Kmart commercial, eh?
3/15/13 - Having a good run...you'll see me just for a bit in a funny upcoming Netflix commercial too.
3/1/13 - I'm doing an INCREDIBLE Kmart commercial...I think it may be up there with "Where's the Beef?"...stay tuned!
2/15/13 - "Absolutely Filthy," at Sacred Fools' is Ovation Recommended - and awesome! We've been extended until 3/10, huzzah!
1/31/13 - Sacred Fools' "Absolutely Filthy," by and starring Brendan Hunt, is an LA Weekly Pick of the Week! Come check it!
1/15/13 - I will be guest starring on the Disney XD show "Crash & Bernstein," in a very funny role. I'll let you know when it will be on! =]
1/2/13 - Happy New Year! I'm starting off 2013 shooting a Toyota commercial with Kaley Cuoco. Stay tuned! And don't skip commercials!
12/13/12 - I will be performing at Sacred Fools early in 2013 as part of the kick-butt ensemble of the world-premiere play "Absolutely Filthy," by and starring Brendan Hunt.
11/15/12 - Look for me soon in a State Farm ad with Clippers sensation Chris Paul!
10/16/12 - I'm really excited to announce that I'm now managed by Bruce Smith at Omnipop Talent Group. Let the good times roll!
8/1/12 - We're rolling out the whole cannon of Magnum Opus Theatre at the Actor's Circle Theater. Catch me as a militant German lesbian (!) in "Le Pheonix Vert," Saturdays @ 11pm from August 18-September 1. More info here!
6/1/12 - Also at Sacred Fools, my one-lady show Wheel of Misfortune will play on Tuesdays & Wednesdays, July 24 - August 1. Yep!
5/15/12 - The amazing Magnum Opus Theatre is returning, including me in my favorite role as the titular heroine of Abigail's Choice. Back at Sacred Fools Friday nights @ 11pm June 22, 29 & July 6, plus Monday June 25 @ 8pm.
4/30/12 - Stay tuned for my imminent one lady show Wheel of Mis-Fortune, first stop, Los Angeles! Which is cool, because I live there.
4/2/12 - The eternal question: what happened to Alaska? remains unanswered. I can say that it is a series based on the Baby Geniuses films, and I'm the mom. We shall see! At least I've been having a blast with World's Dumbest, and shot an hysterical new pilot with the Meetinghouse folks too. Hopefully you'll see it soon!
3/7/12 - See? Karma filled the 3rd job void, and I shot a spot for Chick-Fil-A. Cows!
2/15/12 - Hope yer 2012 is going happily! I had a great start, booking 3 new nationals! Time only allowed for two, so keep your eyes open for Toyota and a world-wide IBM spot during the Masters.
2/15/12 - Howdy! Still no word about the Alaskan return, but I just appeared on episode #162 of Hollywood Uncensored, discussing the Kennedys ...check out a clip!
9/10/11 - Alaska was guh-reat and we may go back for more next month! Til then, I got a Pier One holiday commercial and have done 6 more eps of World's Dumbest and joined the commentary on a forthcoming TV Guide Network special. Huzzah!
5/20/11 - Yo! I'm up in ALASKA shooting a movie for the next couple of months with the awesome Sean McNamara. I'm having a great time and will let you know more when I can!
1/25/11 - Well, this year's off to a sweet start...next week I'll be shooting a spot for Bank of America with my pal Andrew Douglas, and new eps of TruTV's World's Dumbest premiere Thursdays @ 9pm.
1/15/11 - Happy New Year, y'all! I'm celebrating by eating yogurt w/ Jamie Lee Curtis for Activia. We're tight like that.
10/21/10 - For m'birthday, I got two more nationals, Crest and Bridgestone. Insanity. Best year ever!
9/21/10 - I did another spot! In labor! For Verizon! Fuuuun. Few more eps of Smoking Gun too. Good times...
9/3/10 - I started a Facebook fan page in case yer here cause you like me.
8/25/10 - I got to work with another of my favorite guys, Mike Maguire, on a totally ridiculous Old Navy spot that was a major blast to shoot, but will likely embarrass me later. Huzzah!
8/5/10 - I did a super-secrety spot for Playstation. Suffice to say, I want it...and so will you!
7/20/10 - I've shot some more TruTV's Smoking Gun...check my IMDB page to see when you can catch me, or new eps premiere Thursdays @ 9pm.
7/5/10 - Because that's exactly what you want to be thinking about, i just shot a CHRISTMAS Hallmark ad with one of my favorite directors, Russ Lamoureux. Ho ho ho!
6/20/10 - Forbidden Zone at Sacred Fools was extended for a couple weeks. You can now check it til 7/10. And I shot a Hallmark holiday commercial...cause I know you all want to start thinking about Christmas.
5/20/10 - Forbidden Zone opens tomorrow at Sacred Fools! Serial Killers Playoffs start there the next night! The feature Bold Native, in which I play FBI Agent Burke, will screen at Westwood's Majestic Crest Theater on June 16th! Too much fun!!!
3/28/10 - I just got back from shooting a Subaru ad in the desert with Jake Scott.
3/10/10 - I am so ho-nerd to have been cast as the Ex-Queen in Sacred Fools new stage adaptation of Forbidden Zone. It's gonna be all kinds of awesome!
2/15/10 - I'm shooting more of TruTV's Smoking Gun every other week or so...check my IMDB page to see when you can catch me.
2/1/10 - I just shot a lovely spot for Barclaycard in the UK with Paul Hunter, the same awesome director that got me my SAG card in 2002. Awww...
1/20/10 - The Baal is rolling @ Sacred Fools - it's an LA Weekly GO! and a BackstageWest Critic's Pick! It runs until February 20th. Also that night, and 2/19 at midnight, I'm in Scream of the Bikini showing at midnight at Laemmle Sunset. Neat!
1/12/10 - Shooting another couple episodes of TruTV's Smoking Gun! You can see new episodes Thursdays @ 9 or see when my reruns are running on IMDB.
12/30/09 - Happy New Year, y'all! Looking forward to 2010 with Baal (and Serial Killers) @ Sacred Fools, 5 more episodes of TruTV's Smoking Gun! set to air Thursdays @ 9pm and pilot "The Five" all shot and funny. I wish you all the best!
12/10/09 - I booked a lead in "The Five," a hysterical pilot for Star Price Productions, with whom I have worked on Penn & Teller: BS. We're shooting right before the holidays! Ho ho ho...
11/25/09 - I'll be playing Emily, Older Sister & LaSoubrette in Bertolt Brecht's BAAL at Sacred Fools, starting in Jan 2010. The production is going to be amazing, I can't wait!
11/2/09 - The reviews for End of Civilization have been stellar. Check em out! You can catch the show through the end of November.
9/25/09 - Lots more TruTV's Smoking Gun!. The new season begins Thurs, Oct 1st and I should be making jokes all over it.
8/30/09 - HEY! i just shot a spot for Totino's Pizza...watch for me getting upstaged by kids and robots soon. I've also been on hold for 3 others recently...the kid is BACK!
8/12/09 - I've been shooting lots of funny for TruTV's Smoking Gun: World's Dumbest series, so look for me cracking wise on future episodes (Criminals 16 & 17, Drivers 13, and Partiers 7.)
I will also be playing Lily in "End of Civilization" with the SkyPilot Theater Company, running this October and November, thanks to (and starring opposite) the lovely & talented Mr. Eric Curtis Johnson.
7/30/09 - Over at Sacred Fools, I'll be trying out my 1-lady show, Wheel of Misfortune, as part of our Summer Camp series on August 7th & 8th @ 9pm. Our sketch show Serial Killers is on a break until September, so here are some clips to satiate you...
7/15/09 - Check me out this football season in an awesome forthcoming Sprint/NFL spot. And speaking of NFL, I am appearing sporadically in the webseries "Global Sports Fraternity."
7/1/09 - I did another episode of Penn & Teller: BS!, so look for me in the Season 7 "Organic" episode, premiering on 7/30/09.
I also just shot roles in the Open Road film "Bold Native," and the short "Nothing for Something."
6/1/09 - I apologize for the omnipresence of my McDonalds McCafe ads (but I'm not that sorry...)
3/15/09 - I'm performing as Dorine in Tartuffe at Boston Court, running now through April.
2/5/09 - My Cheetos spot ran during the Super Bowl!
2008 - I booked ads for Geico, Sony, Centrum, T-Mobile, Jared Jewelers, and Cheetos and appeared on the Showtime series "Penn & Teller: Bullsh*t!" as a field interviewer.
I also won Best Female Lead in the South African Horrorfest for the short film "Wretched." In other award news, I took the Actress Award at the 3rd Annual Serial Killers "Thursty" Awards, and, as Sacred Fools' Managing Director, I got to accept the Ovation Award on behalf of my friend's awesome destined-for-Broadway show, "Louis & Keely: Live at the Sahara."
MAY 2007 - Hey y'all! We just shot the Showtime pilot presentation for "Not Penn Jillette," and it went splendidly! I played Ireland Baldwin...the perfect role for an thoughtless little pig like me. It was a big weekend, as I also participated in my first Instant Films, where I was joined with a team from Future Stars of Hollywood to make The Ultimate Ceremony, a funny lil' 48 hour film that cleaned house in the awards department, including Best Cast! Yaaay!
I also just did spots for Subway and Vegas tourism to add to the 2 Circuit City/Firedog national ads running now and you can look for me in new print ads for Goody & IBM, as well as on the cover of the My Chemical Romance DVD.
I have two shorts in post, including Derek Wood's dark comedy "Making a Killing" and the "just plain dark," "Wretched." Get ready, that one's LITERALLY a gut-wrencher, made by the awesome ladies at Pretty/Scary Films. Serial Killers at Sacred Fools is on a break until 5/26, which is the opening weekend of The Swine Show, the awesome mainstage I'm in too. You can read the review of our Best of Serial Killers show and check out some clips on the YouTube. I'm also about to start Groundlings Level 3 Writing Lab, and have been doing lots of other writing, including the "START HERE" column in Backstage. Click here to read em and have a lovely day!
FEBRUARY 2007 - BEWARE...My short "Paralegal" that screened in January at the Slamdance Festival, is going to be at the Film Independent Cinema Lounge on March 15 at 7:30pm. If you come, I promise not to stab you!
I'm currently shooting the lead in Derek Wood's Chapman graduate short "Making a Killing" - yaaaay, dark comedy! In the realm of "just plain dark," "Wretched," the short that I shot last year, is in its last leg of post-production. Get ready, it's LITERALLY a gut-wrencher, made by the awesome ladies at Pretty/Scary Films.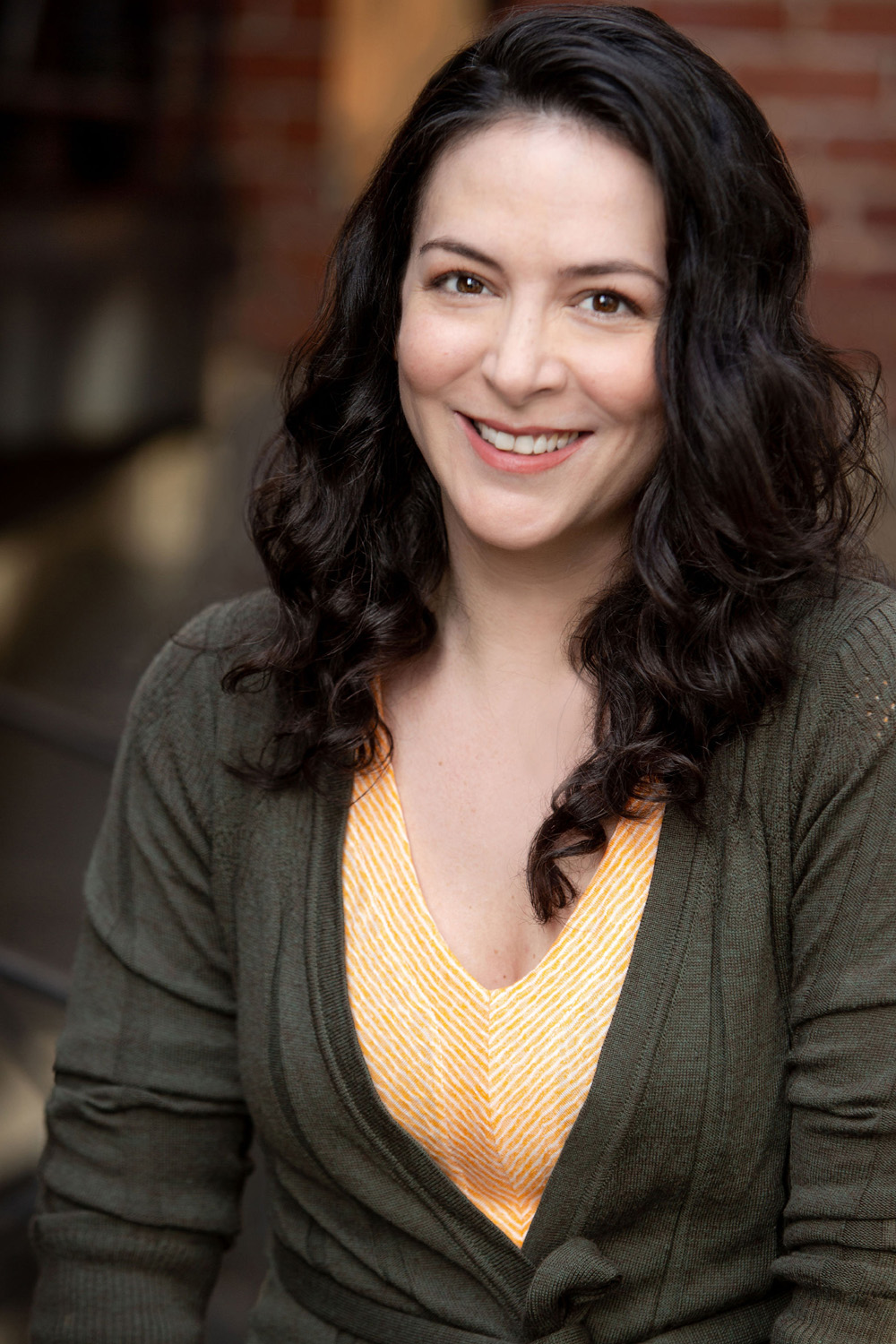 Bio
On the outskirts of popular culture for over 20 years, Jaime Andrews started acting professionally at the age of 12 at Arena Playhouse on Long Island. Best known for her work as a comedic commentator on TruTV's World's Dumbest, she has been a billboard model (Stoli), an album cover-girl (My Chemical Romance), a columnist (Backstage, New Thinking), a commercial queen (she shipped her pants for K-mart and has hung out with the Geico gecko and Chester Cheetah, among dozens of others), a theater manager (Sacred Fools) and, most recently, an award-winning filmmaker (Division, now available on several platforms). She was a recurring Guest Star on Good Girls Revolt, whose premature cancellation started an online firestorm at the dawn of the Me Too movement.
Jaime's memoir, The Brink - about her tumultuous teen years - will be published in 2023, and she has several projects in the works through her production company, jaimation. She is also working on a graphic novel, Cookie & the Monster, adapted from her play which won best show in the Ensemble Theatre category at the 2015 Hollywood Fringe Festival.